MillionaireMatch.com - the best millionaire dating site for sexy, successful singles!
Dating Tips
Creating a Dating Vision Board
Written by: Akua Hinds
November 29, 2018
If you want to be successful at something that is important to you, it is important to plan for success and then work your plan. A vision board is not just for planning vacation goals and small business goals. You can use a vision board to help you plan the type of partner that you want to attract, as well as what kind of relationship you want to build. You will feel great when you look at the posts on your vision board and see that you have used the visuals posted on your vision board to move you towards creating the best situation for you. Here are some tips on how you can create an effective vision board to help you move your dating life forwards:
Focus on What You Actually Want
It can be so tempting to think about our past relationships and think about what we do NOT want moving forward into a new relationship with someone else. However, your vision board works best when you only post images that focus on the goal that you want to achieve instead of images that reflect what you want to avoid. When we think about, we bring about. If you focus your thoughts on what you actually want to achieve, your thoughts will eventually spur into action and you will do what is necessary to make your goals a reality. Your posts on your vision board will motivate you more when the posts are about what you actually want.
Hold Yourself Accountable
Vision boards can look beautiful and inspiring once they are actually completed, but a vision board is not just for show. The posts that you carefully placed on your vision board need to be used as tools that you use to hold yourself accountable to achieving your goals. Do you want to meet a man who speaks more than one language because it is your dream to raise children in a multi-lingual home? Then take whatever steps you need to increase your chances of meeting a man who speaks different languages. Maybe you need to narrow the search on your dating website profile to searching only for men who speak more than one language. Or, perhaps you need to attend multicultural events that promote bilingualism so that you can meet other people who share your beliefs. What your goal is, make it your priority to actually do the things that reflect the posts on your vision board.
Work on Your Vision Board Weekly
Life gets busy, and we sometimes get so consumed with life's day to day demands that we forget to zero in on our personal goals. Your vision board should be treated with the same amount of seriousness that you treat your other priorities. Check your vision board either on a daily basis or on a weekly basis. Celebrate your wins when you achieve the goals that you have posted about. Your vision for your future relationship needs to be established by you and only you because you are the CEO of your own life. Every CEO of a successful business has plans in place for their businesses and what types of employees they want working for the business. You should be equally as proactive in how you choose the co-star of your love life!
Akua Hinds works as a journalist, actress, music performer & instructor, owner of 3 dating sites www.InterracialDesires.net, www.RichSinglesDate.net, www.ChristianPartner.co, and independent business owner at www.PureRomance.com/AkuaHinds selling passion products. Please visit www.AkuaHinds.com for more information.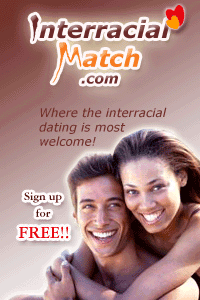 InterracialMatch.com - the best interracial dating site!