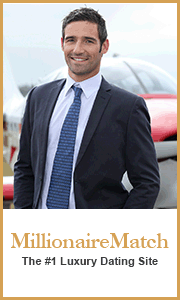 MillionaireMatch.com - the best millionaire dating site for sexy, successful singles!
Dating Tips
Five New Year's Dating Resolutions You Can Keep
Written by: Akua Hinds
January 16, 2020
Cheers to a brand-new year! There is so much to celebrate and look forward to. Sometimes, we get so caught up with what is happening in our daily lives and we forget to document our changes and our wins. Your life might not seem like it is changing, especially if you are still single and wanting to make a connection with someone. But, if you record your daily wins in a journal, you will recognize the small but significant changes that are happening around you. When changes need to take place, there are things that you can do to move your personal life forward. Here are five New Year's resolutions that you can make (and keep) to help change your dating life this year:
Define Your Version of Success
My idea of a blissful relationship might be different from yours, and that's perfectly fine. Your idea of an ideal partnership is unique to you. There is no one size fits all way of doing life. Before you get into your next relationship, you need to get a feel for what type of relationship would fit your personality and goals. Find a place where you can be quiet and free from distractions. While you are in your quiet zone, think about what would make you happy and what type of people you want in your life. Always remember that the person who you connect with romantically will be connecting you to other people, places, and situations via them. For instance, if you plan to become a vegan and want to connect with someone who eat at vegan restaurants with you, it would not make sense to partner with a person who loves meat and has barbeques every weekend. Decide on what is successful for you.
Congratulate Yourself for Past Learning Lessons
Breakups can definitely drain the happiness and energy from you for a while, but the sadness does not have to last for long. That is all up to you! Instead of lamenting over the mistakes you made in past relationships, congratulate yourself for figuring out what went wrong, why it went wrong, and that you do not plan to repeat those same mistakes. This might feel foreign to you at first; encouraging yourself to see the good in your past relationships that didn't work out instead of feeling disappointed in yourself for allowing those disappointments to happen to the first place. But just try it! See the good in the failed relationship. Once you start counting your blessings, you will realize that you have many opportunities to you now that you may not have had if you had not experienced the lessons you learned from your past.
Record Your Wins and Plan for More
I first learned about recording my wins after I participated in a vision board workshop last year. Sure, you can record your wins on your social media accounts for everyone with an internet connection to see, but I really like recording my wins in my gratitude journal because it is all recorded in one place where I can look back at my wins and remind myself about my unexpected win. An unexpected win could be anything from a friend of yours treating you to dessert, or a stranger paying you a complement. When you record your wins and acknowledge them, you will not be surprised when the right person enters your life.
Decide Who Stays and Who Needs to Go
This is a big one. Cleaning can seem like a big chore, but we all know that it has to be done. Just like tidying up your physical surroundings, tidying up your personal life needs to be done too. Are there people in your life who are taking up too much room? Here's how to tell if someone needs to stay and if someone needs to go. If an individual in your life is making you feel emotionally drained every time that you interact with them, then it is time for you to re-evaluate their role in your life. Releasing someone from your life can sometimes be the only way to create room for healthier relationships to happen. Believe me, you might feel a little down at first as you make the decision to break ties with someone who you are accustomed to spending time with, but you will eventually realize that your life is better for not allowing someone else's negativity to pull you down.
Put Yourself in Situations to Succeed
People who are successful at achieving their goals are not successful by accident. The reason why some people achieve certain things is because they are usually extremely motivated at getting what they want, and they are willing to do the work required to live their ideal lives. What kind of people do you want in your inner circle? What kind of relationships do you envision for your life? When you intensely focus on what you want, your actions will mirror your intentions. Excuses will no longer dominate your life, and you will be focused on beating the odds no matter what obstacles are in your path.
So what if your past relationships didn't work out? Your upcoming relationship just might be the right one for you, and if it isn't, then you can create more opportunities for yourself. Know that you can and will succeed if you are determined to succeed and to intentionally surround yourself with people who share your vision. Resolve to make this year the one with no more excuses, no baggage, and no drama. Take back your power, stop giving it away. Once you resolve to make changes, make a plan on how to stick to your resolutions. Rewards yourself when you fulfill the promises you made to yourself, and you will see your life change in the way that it is supposed to.
Akua Hinds works as a journalist, actress, music performer & instructor, marketing director and owner of 3 dating sites www.InterracialDesires.net, www.RichSinglesDate.net, www.ChristianPartner.co, and Pure Romance by Akua Hinds at www.PureRomance.com/AkuaHinds selling passion products. Please visit www.AkuaHinds.com for more information.