Dating Tips
Having a Pet-Free Love Life
Written by: Akua Hinds
November 8, 2016
A few days ago, an article that I'd written about pets and relationships was published on the Go Dates website, and I was relieved to have had the chance to once again share my thoughts about pets and people. We all have hobbies and special interests that we devote our time and attention to, but pets have never been high on my priority list. In fact, I doubt that I'll ever have pets other than my tropical fish that are content to swim and do fancy tricks in their aquarium. I'm just as content to watch them swim and move on about my day. I don't want to take pets on walks, clean up after them, and pet-proof my home. The problem is that there are many people in today's society who are averse to living with pets, but they are afraid to speak their thoughts out loud because of the negative backlash they receive from animal lovers.
As the owner of three worldwide niche dating websites, I see the benefit of being very specific about the type of relationship you want to have. There's no point in dating someone whose lifestyle doesn't mesh with your own. Choosing to live with a pet is a huge lifestyle choice that believe it or not, not every person wants for themselves. Whoever created the idealism that a dog is man's best friend was obviously someone who didn't keep in mind the millions of people living worldwide who suffer from allergies to animals. Many people who prefer not being around animals feel forced to defend themselves from animal lovers who refuse to accept that people who don't want pets are people who are perfectly normal.
Based on a survey study that was conducted two years ago with 1000 people, 66 percent of those surveyed would not date someone who did not like pets. And, 70 percent of the men and women surveyed indicated that their dates' acceptance of their pets is important. There are nice dating websites for animal lovers such as PetPeopleMeet.com and LoveMeLoveMyPets.com, so....what about niche dating sites for people like myself who enjoy living pet-free lives? A few searches on Google have shown me that there aren't ANY niche dating sites for non-pet owners. So, what's a single person who doesn't want pets or who may be allergic to pets supposed to do? There are so many ridiculous myths out there about people who don't want pets. Many people feel that non-pet lovers are unfeeling and non-trustworthy. That couldn't be more ridiculous. I don't wish for animals to be mistreated, but in my mind, people come first and our needs and safety should be first priorities.
I know plenty of people who are generous, warm, compassionate people who live pet-free lifestyles and they have no plans on adding furry creatures to their households. I recently read a blog written by a woman who described how happy she was to have money in her emergency fund bank account to pay for a $2000 veterinary bill to heal the cat she shares with her husband. All I could think of when I read that blog was how much I could do with an extra $2000 laying around. I could use that money on things that I feel passionate about such as vacationing in sunny destinations, donating to Christian charities, treating my loved ones to things that they enjoy, and investing into my business. But of course, it's not my place to decide for other people how they want to spend their money. If people want to pay huge vet bills to care for their pets, so be it. Just like it's perfectly acceptable for people not to want to spend their resources and time taking care of animals.
I think there is definitely a place for animals.....outdoors in a field, a backyard, and in a barnyard. I just don't feel animals belong indoors where humans live. One of my good friends refuses to eat food at the homes of pet owners, and I can't say that I blame her one bit. Who wants to risk eating off of a plate that a cat or dog licked? I couldn't see much of a future with someone who insisted on living with animals, especially since I interact with different people on a regular basis and I have friends who are allergic to animals. I wouldn't be able to invite people into my home and feel comfortable knowing that the environment might trigger allergies for other people. Not to mention, I do NOT see the point of constantly cleaning up after pets. That's just not my thing. I actually LIKE clean furniture and tidy homes. I don't want to be exposed to the parasites that animals attract. I don't mind cleaning children and taking care of them. But, I don't feel any connection whatsoever to animals; their claws and fangs make me feel uneasy, and they're too unpredictable for me to trust. Plus, I think animals should be working animals that are serving a purpose, and it's not my goal in life to work to pamper a pet.


InterracialMatch.com - the best interracial dating site!
To all of the pet-free single people who are struggling to find someone who is also pet-free, I completely understand your pain. Too many people silently suffer with being roped into living with animals that they don't want to be around. Discuss your feeling about pets right upfront and don't put off the discussion or allow other people to make you feel that you are unfeeling for not wanting pets in your life. Truth is, animals have to be trained to like humans; they don't instinctively trust us. Animals don't want to be owned; they instinctively want to be free, but they enjoy getting a constant food source from humans. My encouragement is to stand firm and don't allow yourself to be outvoted about how you want to live in your own home. Keep searching for someone who won't force their puppy love with animals on you. You have the right to live in the kind of environment you want to live in, and you'll eventually feel very resentful if you are pressured to live a lifestyle that you don't believe in. With all of the millions of people worldwide who are allergy sufferers, it might be time for a new dating website to spring up to serve singles worldwide who desire pet-free partners.
Akua Hinds works as a journalist, actress, music performer & instructor, owner of 3 dating sites www.InterracialDesires.net, www.RichSinglesDate.net, www.ChristianPartner.co, and independent business owner at www.PureRomance.com/AkuaHinds selling passion products. Please visit www.AkuaHinds.com for more information.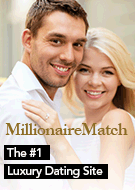 MillionaireMatch.com - the best dating site for sexy, successful singles!