Dating Tips
How to Tell If A Dating Site is Real or Fake
Written by: Akua Hinds
September 7, 2017
With literally thousands of dating websites available to single men and women who are 18 years of age and older, you might feel bewildered about which sites are worth your while to join. There are definitely many advantages to using a dating site to help speed up your search for love. However, there are websites that masquerade as dating sites when they are really just websites for "entertainment" purposes only. Here are tips to help you figure out if a site you're joining is real or not:
The Terms and Conditions Tell It All
Many people join memberships via the internet and they don't bother to read the terms and conditions. Unfortunately for people who are sincere in their online dating efforts, they might find themselves being lured by websites that are masquerading as no strings attached (NSA) hook up sites for people seeking casual flings. However, if you do some close inspection, you'll discover that those sites are actually designed with artificial member profiles with stunning photos, alluring descriptions, and you're never going to meet anyone in person from those sites because those members don't actually exist. If you read the terms and conditions of sites like these, you should be able to find a written statement notifying you that some of the profiles are fictional and that meetings will never actually occur because the site is for adult entertainment purposes.
If you don't mind exchanging flirty messages with "members" who are actually independent contractors hired to act as adult text operators whose job is to pose as the site's "self-created profiles" and keep the conversation going with gullible members on these sites, then you have nothing to complain about. If, however, you were hoping for meetings with the members who you're interacting with, then you'd be better off not spending your money purchasing credits to message people who are being hired to send you pictures of models and chat with you.
Read The Reviews
You can't always put a lot of stock in someone else's opinion, but reading reviews on the dating sites that you're thinking about joining will help you to get a sense of whether or not the website is legit or not. Search for articles about your dating site's reputation. A website like www.DatingBusters.com is a good place to start. The reviewers on Dating Busters claim that they create profiles just to test out a dating site and see if the profiles seem fake, or, if they get genuine in person dates from the people who they exchange messages with.
Dating Busters uses screen shots to show you why the dating sites in question are real or phony. If you take a close look at the photographs of the members, you will be able to notice some similarities between the pictures. Some of the pictures look too good to not be professional, and they're obviously not "selfies" because the person in the photo is posing in a seductive way without holding cell phones in their hands. Ask the person you're interacting with who took their photos. If they claim that they were self-taken, and the picture shows the person posing in ways that look unlikely to be selfies, then chances are, the pics you're viewing are those of a model and not a genuine member of the site.
Contact Information is Blocked
Many of the companies that create fictitious profiles for Adult Entertainment purposes will do anything possible to ensure that your contact information cannot be exchanged with the site's other members. After you purchase credits, you should be able send private messages to any member on the site that you choose to. However, if the website that you're using is blocking out your contact details in messages that you're sending to other members, then that site is not a genuine dating site. A real dating website will never make any attempt to block your email and telephone number in your private messages to other members on the site.
Scam dating sites typically monitor messages sent between members, and they purposely block email addresses and phone numbers from being sent because they want the members to continue purchasing more credits from the website to send messages. If members connect away from the website, then the site's owners will lose money. However, genuine websites will offer optional payment subscriptions for members, and members are permitted to exchange as much of their personal contact information via private messages as long as a subscription has been paid. Beware of the dating sites that you join, and be sure to read the terms and conditions so that you know what you're signing up for before you share your personal information online.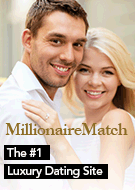 MillionaireMatch.com - the best dating site for sexy, successful singles!
Akua Hinds works as a journalist, actress, music performer & instructor, owner of 3 dating sites www.InterracialDesires.net, www.RichSinglesDate.net, www.ChristianPartner.co, and independent business owner at www.PureRomance.com/AkuaHinds selling passion products. Please visit www.AkuaHinds.com for more information.
Click the image above to shop for Pure Romance products!