Dating Tips
How to Tell If He's Serious about You
Written by: Akua Hinds
April 5, 2018
We've all been there before; wondering whether or not the man we hope to be with could be "the one." When you are feeling especially hopeful about someone, it is common to ignore the signs that he might not be on the same wavelength that you are on. Here are some things to consider about whether your guy is interested in being with you for the long haul:
1. You never have to wonder when he will call you. He should win an award for being consistent about getting in touch with you! By calling you, I don't mean sending you a text; I mean actually dialing your phone number to TALK with you. In this day and age of dating where it seems people prefer to start conversations with text messaging instead of through speaking, having a phone conversation is a special treat.
2. He has already started planning dream vacations for the two of you. A sure sign that a man is serious about you is if he is eager to create magical moments with you. When he is ready to spend his travel miles on you, it is clear that your man values the quality time he spends with you.
3. He shares important details of his life with you. Your mate should be the person who you share your private thoughts and secrets with. Similarly, you should also be the person who your guy turns to when he needs someone to confide in. You know that your boyfriend is into you when he shares details of his life that he has rarely if ever shared with anyone else.
4. He smiles every time he sees you. A smile is a sign that all is right in the world. When your guy's face brightens with happiness each time that he sees you, you can rest assured in knowing that he is happy being with you. When your guy is perfectly content to spend the day lounging around the house with you and doing your favourite activities, you know you have a keeper!
Don't play the "He loves me, he loves me not" game. Instead, watch closely for signs that your guy is engaged in his moments with you. If you feel that your boyfriend is not as into the relationship as you are, then it might be time to find someone whose level of devotion to the romantic partnership matches yours.
Akua Hinds works as a journalist, actress, music performer & instructor, owner of 3 dating sites www.InterracialDesires.net, www.RichSinglesDate.net, www.ChristianPartner.co, and independent business owner at www.PureRomance.com/AkuaHinds selling passion products. Please visit www.AkuaHinds.com for more information.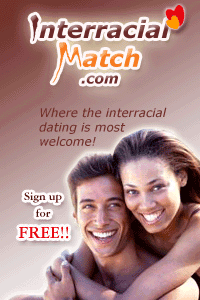 InterracialMatch.com - the best interracial dating site!