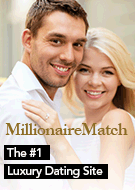 MillionaireMatch.com - the best dating site for sexy, successful singles!
Dating Tips
How to Use Music To Make Your Dates More Fun
Written by: Akua Hinds
November 16, 2017
There are literally millions of songs that have been created and performed. There are no doubt going to be millions more songs that will be created and performed throughout each generation. Many couples have a song that symbolizes their relationship. You can use songs in many different ways to liven up your dates, and even to pay tribute to your relationship. Here's how:
Write a Song Together
Do you smile every time that you think about your sweet love? If so, then maybe a custom made song to commemorate your relationship is exactly what the two of you need. A song with a sweet sugary message will be perfect for you and your honey as you hold each other and listen to your beloved song together. If neither you or your mate are proficient as musical performers, you can join forces and hire a musician to help write and record your special song. If you can't afford to pay for studio time to record your track, just use your digital device (tablet, cell phone, computer, etc.) to record the performance.
Have a Karaoke Competition
Singing is a great way to express your emotions! Through using your voice and some good lyrics, you can paint musical pictures and impact hearts. Singing at karaoke events is a wonderful way to have fun and show off your musical ability. You can turn your karaoke date into a group date with other couples and see which group sings best; the men or the women. The winners should of course get treated to serenades of their favourite songs. Your karaoke competition can take place in a public bar's karaoke night, or, you can host your own karaoke event at your place and using karaoke versions of tracks on YouTube.
Have Movie Musical Marathons
It won't be too difficult to find movies that are based on musicals. Grease, The Sound of Music, and Chicago are just a few magnificent stage musicals that were created into movies. You and your love can watch those movies all day long together and sing along to the tunes on the screen. Be sure to choose musicals to watch that you BOTH enjoy.
Choose a Song to Represent Your Partnership
Think about how your relationship started. Were there many obstacles that the two of you have had to overcome? If so, choose a song that has lyrics that mention the rocky times that have been overcome. The song that you and your significant other choose as your special couple song will be one that the two of you will cherish for a long time. Songs evoke emotions and memories good or bad. Make a date to choose your special song together and have a private party eating cake and toasting to your special moment. Songs are special and you have every right to celebrate and bask in the joy of listening to the melodies that capture the heart and soul of your relationship.
Akua Hinds works as a journalist, actress, music performer & instructor, owner of 3 dating sites www.InterracialDesires.net, www.RichSinglesDate.net, www.ChristianPartner.co, and independent business owner at www.PureRomance.com/AkuaHinds selling passion products. Please visit www.AkuaHinds.com for more information.