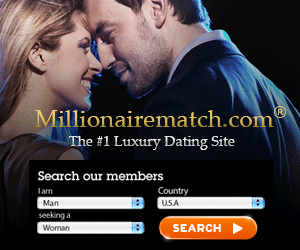 MillionaireMatch.com - the best dating site for sexy, successful singles!
Dating Tips
How Your Divorce Party Can Help You Move Forward
Written by: Akua Hinds
July 8, 2016
Milestones such as graduations, birthdays, engagements, and weddings are celebrated with parties, food, and laughter. Becoming single again after an unfulfilling marriage needs to be celebrated too! You probably never imagined when you first got engaged that you would eventually get a divorce, but it happened. Changes happen in life, and making positive adjustments to situations that you are forced to deal with will be crucial as you move forward. Believe it or not, divorce parties are on the rise! Instead of moping about how your marriage ended, you can join the growing number of men and women celebrate their new life journeys through their divorce party celebrations.
The stigma of being divorced does not need to haunt you. The huge amount of dating websites available for single people to join should bring you comfort because they are proof that there are plenty of people who are (like you are now) navigating life's stormy waters solo. Some relationships work out for the long term and some relationships don't. A fun divorce party can cheer you up, especially if your friends rally around you to show you support. You celebrated at the time your marriage took place, and now that it's over, you can celebrate the new paths that you're going to pursue, especially if you follow these suggestions to commemorate your newfound freedom:
Join a Support Group
This is a time in your life when you need proper encouragement and support. There are people who are going through situations that are similar to what you are trying to deal with. Reaching out to people who are dealing with divorce will give you some much needed perspective. Through bonding with people in the group, you might learn some tips for moving forward while coping with the loss of your marriage. Plus, you can make new friends at these support groups. When you share your story about what you're going through, your testimony might be helping other people to gain strength.
Host a Divorce Party
A new chapter of your life is about to begin. Having a party to celebrate that you are moving forward can be done in good taste, especially if you and your former spouse share children together. Your party can be large or small, but it should be attended by YOUR friends and family. Refrain inviting friends that you and your ex mutually share because you don't need any awkwardness at your celebratory bash. Put balloons in your house, send out pretty invitations, serve cake to your guests, and swap relationship stories with each other. Or, you can have a night out on the town with your pals and drink toasts to your new freedom.
Join an Online Dating Site
You don't have to stay single for the rest of your life if you don't want to. Eventually, you should think about finding someone special again. Through joining a dating website, you can allow yourself to dream again. There is someone out there who wants to take a chance on being your partner. It's your job to find that person and work together to make a good partnership happen between you two.
It's perfectly understandable that you need and want to grieve the loss of your relationship. Some parts of your grieving process will be done solo, and some of your grief will be shared in the company of your friends and family members. Choosing to focus on the new future in front of you instead of centering your thoughts on your past disappointments will be pivotal in achieving a successful new path. Vow not to allow any bitter feelings you have about your divorce to taint a future you could have with a new partner.
Akua Hinds works as a journalist, actress, music performer & instructor, owner of 3 dating sites www.InterracialDesires.net, www.RichSinglesDate.net, www.ChristianPartner.co, and independent business owner at www.PureRomance.com/AkuaHinds selling passion products. Please visit www.AkuaHinds.com for more information.