Dating Tips
Why You Need A Prosperity Mindset To Have a Better Love Life
Written by: Akua Hinds
May 3, 2016
Life really IS what you make of it, and it is much more enjoyable when the bills are paid (in advance) and you have a vacation to look forward to. There is so much more happiness to look forward to when you can go to sleep and wake up the next morning knowing that your financial needs are taken care of. Money is not solely responsible for achieving happiness, but money can certainly provide plenty options for you and for your life. Too many couples fight about money, and as the owner of three worldwide dating websites, I prefer to see people make love and not war. Here are some reasons why you should have a prosperity mindset so that you can improve your own love life.
1. Your self-esteem will increase. Believe it or not, having a prosperity mindset is not solely about earning an income. When you feel more confident about yourself, you will feel more motivated to put forth your best effort and produce results for yourself and for others.
2. Your understanding will develop. When you see positive things happening as a direct result of your efforts, you will understand that there ARE some things in life that you have influence and control over. As your understanding develops, your confidence in life will develop. As your confidence grows, you will be more appealing to people who want to date you, because people are attracted to people who are confident.
3. Having a prosperity mindset means that you are constantly focused on results as well as planning for the future. Relationships often grow stagnant when one or both people in the relationship stop focusing on it and stop caring about it. Being focused on prosperity helps you to treasure important life moments and meanings.
4. Life if less stressful when you are focused on a plan. A person who does not have a sense of direction for their own life will make a poor partner in a relationship. Being focused on your personal and professional development will help you to learn the techniques needed to help your partner steer your relationship together in the right direction. People who are successful plan to succeed and they work their plans into effect.
5. There is more to enjoy. When you are in a good financial place, your mind and body can relax and enjoy your relationship a little bit better. When the bills are paid and out of the way, you can focus on people and things that mean the most to you. Many people allow their financial responsibilities to dominate their thoughts. Through having a prosperity mindset, you will be motivated to create the income that you need so that you can live and enjoy the life that you want.
Akua Hinds works as a journalist, actress, music performer & instructor, owner of 3 dating sites www.InterracialDesires.net, www.RichSinglesDate.net, www.ChristianPartner.co , and independent business owner at www.PureRomance.com/AkuaHinds selling passion products. Please visit www.AkuaHinds.com for more information.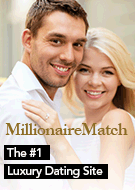 MillionaireMatch.com - the best dating site for sexy, successful singles!