Click on the image above to shop for Pure Romance products!
Dating Tips
The Value of Interracial Relationships
Written by: Akua Hinds
June 22, 2017
Last week, I had the joy of being the moderator for a Facebook LIVE panel discussion about interracial relationships. Shelley Jarrett, the co-founder of SMJ Magazine, asked me to moderate the panel, and I'm so glad that she asked me! I learned so much during the hour long discussion that myself, Shelley, and 3 other ladies on the panel engaged in. There were members of the audience who asked really good questions, and some of those questions made me pause and reflect about whether or not interracial relationships truly can work and be just as functional as any other type of relationship. As the owner of an interracial dating website, I get asked at times about the benefits of interracial dating. Here are three good things that I think can come from multicultural pairings:
Insight
It can be difficult to truly grasp what someone else goes through and what their lives are like unless you've had a chance to observe that person's journey. I have a friend who is Chinese and although I'd known about Chinese New Year, before I had spoken with my friend about the holiday, I hadn't had any idea just how huge it is in the Chinese culture. Through our conversation, I came to understand that Chinese New Year celebrations are as significant to many Chinese people as Christmas celebrations are to Christian people. Through close interactions with people whose ethnic backgrounds are different than your own, you can gain insight and grow as a person.
Freedom
Once you've established the courage to follow your heart and pursue someone whose life experiences vary widely from your own, you will be better equipped to build the strength needed to follow your heart in other areas of your life. One of the ladies speaking on the panel mentioned that the right person is someone who fits well into your life, makes you feel wonderful, and you feel that God arranged the union between you and that person. I remember a conversation I'd had years ago with a woman who said that the kingdom of heaven will look very diverse. Before that chat, I'd never really thought about it before, but of course it makes sense that the kingdom will be as diverse as God wants it to be because He created all of us intentionally and in His image. When you free your mind enough to consider that God has no problem with a man and a woman in any part of the human family being together as long as they are equally yoked, then that should be enough to convince you to follow your relationship goals.
Widening Your Opportunities
It's fine to be selective about who you spend your time with and how you spend your time because not everyone on the planet shares your values. There's nothing wrong with preferring to date people who share your ethnic background. However, by being open to interracial dating, you're increasing your opportunities to learn lessons, grow, and experience love that you might not have experienced had you not given things a chance. The world that we live in today offers many more career and travel opportunities to men and women from all backgrounds than our ancestors experienced. Civil rights activists fought to end discrimination based on gender and ethnicity, and because of those efforts, the world is more inclusive for all than it used to be, and that means that there are more options for everyone everywhere. Some of the ladies on the panel mentioned that their willingness to be in interracial relationships has inspired their friends and family members to give interracial dating a chance. Those friends were single and wanted to be in relationships and they might not have considered interracial dating before if it weren't for the positive experiences their loved ones had.
All relationships have challenges. Some obstacles can be overcome, and some can't be. However, you miss 100 percent of the shots you never take! Do you want to take a chance on yourself and see what you're capable of? If so, then give yourself every opportunity to achieve the happiness that you seek. Happiness comes in many different forms for different people. For some people, entrepreneurship is their happy place, and for other people, they thrive on working for employers. An interracial relationship might or might not be for you, but if you give yourself a chance to discover what fulfills you, your choice to broaden your opportunities will impact your life and the lives of those who you influence.
Here's a link to the Facebook LIVE panel discussion about interracial relationships:
https://www.facebook.com/shelley.jarrett1/posts/10213763175822448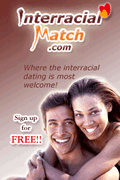 InterracialMatch.com - the best interracial dating site!
Akua Hinds works as a journalist, actress, music performer & instructor, owner of 3 dating sites www.InterracialDesires.net, www.RichSinglesDate.net, www.ChristianPartner.co, and independent business owner at www.PureRomance.com/AkuaHinds selling passion products. Please visit www.AkuaHinds.com for more information.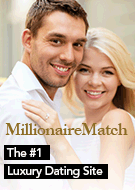 MillionaireMatch.com - the best dating site for sexy, successful singles!