Dating Tips
Why Summer Is The Ideal Time To Date
Written by: Akua Hinds
August 16, 2017
This is the season to rock out the sundresses, sunglasses, halter tops, shorts, sandals, and sunscreen. Summertime is the ideal time to bask in the sun's rays and mingle with your neighbours. This is also the best time of the year to go on first dates! Single people have many opportunities to explore the wonderful and diverse world of online dating. In fact, if you use the summer season to start building your strategy to meet and attract the type of mate that you want, then you might have your ideal partner by the Thanksgiving and Christmas holiday seasons. Strike while the sun's rays are hot, and start your summer dating strategy now! Here are three reasons why summer time is a wonderful time to start a new dating adventure:
People Are More Health Conscious
Winter is a time when many people feel like staying indoors, covering up with sweaters and blankets, and snacking on delicious foods that help them to feel warm. Summer time is the exact opposite of winter. With the sun out, it's time to shed the sweaters and boots and let your skin soak up the sun. Warmer seasons are wonderful opportunities to go for walks outdoors, exercise, and eat foods such as salads that help your body to feel light and cool. When you feel your best, you look your best. Dating is even more fun when you look and feel like you're on top of your game.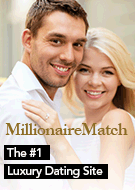 MillionaireMatch.com - the best dating site for sexy, successful singles!
More Chances to Elongate a Date
It's hard to flirt and be outgoing on a date when you're worried about the possibility of having to cut the date short due to an impending storm. Dates during the summer season can be as long as you want them to be. Dinner dates can be outside on the patio as you eat and chat under a starlit sky. Or, you can eat indoors and sip tall glasses of lemonade.
In addition to fun outdoor dinner dates, you can even more fun daytime dates during the summer season. Amusement parks are fantastic places to unleash the fun side of your personality. Even going on walks in the park is more fun when the flowers are in bloom and children are playing outdoors. You and your date can walk hand in hand as you chat about what you're seeing around you while you're walking.
Plenty of Festivals to Attend
School is out for summer, and that means that many festivals take place during the summer time because they attract people from every demographic; singles, couples, and families. So far this summer, I've attended Ribfest in two different cities, a Macaroni and Cheese festival, other events, and I'm sure there will be more events that I'll be attending before the autumn season begins.
Festivals are super places to have dates because most people there are happy and enjoying themselves. You won't have to worry about what to talk about when you're at a festival, because there is plenty to see and do while you're there. Relax, have fun, and eat a few corndogs and ice cream cones as you develop a bond with each other. Take a few pictures of each other; the sun's rays help pictures to look bright and beautiful especially if you have dates at the beach. Summer is the perfect time to go on fun dates and create memories that will last a life time.


InterracialMatch.com - the best interracial dating site!
Akua Hinds works as a journalist, actress, music performer & instructor, owner of 3 dating sites www.InterracialDesires.net, www.RichSinglesDate.net, www.ChristianPartner.co, and independent business owner at www.PureRomance.com/AkuaHinds selling passion products. Please visit www.AkuaHinds.com for more information.